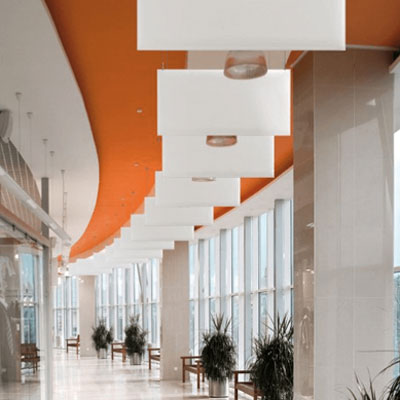 MMT Acoustix™ Acoustic Baffles
MMT Acoustix™ manufactures and supplies hanging acoustic baffles for indoors like gymnasium, Hotels, Schools, Auditoriums and big spaces with low wall surface. It absorbs the sound and helps maintaining perfect sound environment. Our acoustic baffles are available in more than 40 colors, allowing you to choose best for your interiors.
Eco friendly material as emits no odor and gas
Available in 40+ shades of color for an aesthetic look.
Damps and absorbsthe sound making a restful environment
NRC levels are greater than 0.80, Certified by ARAI
Very sleek unlike other acoustic products.
Provides thermal insulation as well thus reducing air conditioning bills
Fire Retardant, Water Resistant, Anti Termite and Zero Emission panels
Choice and preferred product of Amateurs, Veterans and Professionals globally
Easy to cut in desired shape
Application Guide:
Fix eye loops on the ceiling where the baffle needs to be installed
Crimp the wire rope to a hook after passing it through the baffle holes
Connect the hook to the loop and its done.