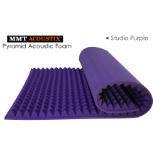 MMT Acoustix® Acoustic Foam
MMT Acoustic Foam Panels are made from 100% polyurethane, technically given a designed shape for sound diffusion and absorption. The shape also gives an aesthetic look when paneled on the walls and ceilings. MMT Acoustix® are leading manufacturers of Acoustic Foam panels in Delhi, supplying the material in bulk all over India and globally. Our acoustic foam panels can be easily cut into small pieces and paneled on walls using adhesive.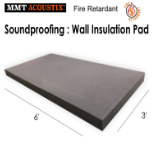 MMT Acoustix® Sound Insulation Panel
Sound Insulation Pads are used in residential, commercial and industrial areas for soundproofing and noise reduction treatment. MMT Acoustix® manufactures Fire retardant high-density acoustic polyurethane for 100% soundproofing. Acoustic foam is easy to cut and apply, therefore is categorized under DIY (Do It Yourself) Products making every customer an engineer.
MMT Acoustix® Anechoic Chamber Wedges
MMT Acoustix® manufactures technical and industrial anechoic foam wedges for testing,musical, industrial and Quiet rooms. With deep wedges and sound absorbing quality, the sound is trapped, thus creating no reflection of the sound. The product is available in different colors and sizes.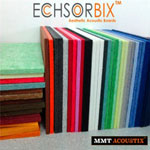 MMT Acoustix® Acoustic Polyester Panels
MMT Acoustix manufactures acoustic boards and acoustic panels for walls and ceilings in India to control the echo and reverb, contributing to good and aesthetic environment. . To create the optimal sound environment for your interior space we have colored and lightweight acoustic panels for acoustics and soundproofing in India.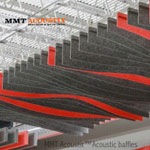 MMT Acoustix® Acoustic Baffles
Stop the echo, quiet your space, and turn your ceiling into a work of art with a custom-covered hanging ceiling baffle. Made of Polyester felt fiber with 40 colour options, Fire Retardant, Water Resistant and Termite proof. MMT Acoustix® hanging acoustic baffles are an excellent ceiling soundproofing insulation solution for people with little wall space.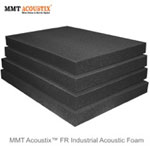 MMT Acoustix® Fire Retardant Acoustic Pads
This specialized kind of foam converts sound energy into heat energy thus absorbing all the sound and killing all the noise. It's fire retardant and easy to apply. Our Fire Retardant High Density Acoustic Foam is used in Machine canopies, Tunnels, Gensets, Hvac Systems, Zero Sound Rooms, Army, Defense, Astro engineering and Marine.