Nightclub, Bar & Discotheque Soundproofing & Acoustic Treatment
Nighclubs, bars, cafes and lounges face acoustical challenges like buzz from loud and heavy music, thumping bass & low frequencies and shouting voices of the crowd. To turn this noise into a great sound quality party place, proper sound isolation, sound absorption and sound diffusion is important. The music should stay inside the premises at all times and do not disturb the outside areas like VIP rooms, lobby's, washrooms etc.
Nightclub is prone to fire mishaps and liquid spillage. Therefore MMT Acoustix® products are fire retardant and water resistant. This increases the life of the treatment and lowers the maintenance of the project.
Soundproofing and acoustic treatment in nightclubs, bars and discotheques are very important and enforced by government laws too. MMT Acoustix® manufactures soundproofing membrane like SoundBlanket, Bass Absorbers like BassBloc® and high, mid frequency absorbers like Sound Insulation Pads for treating such entertainment spaces.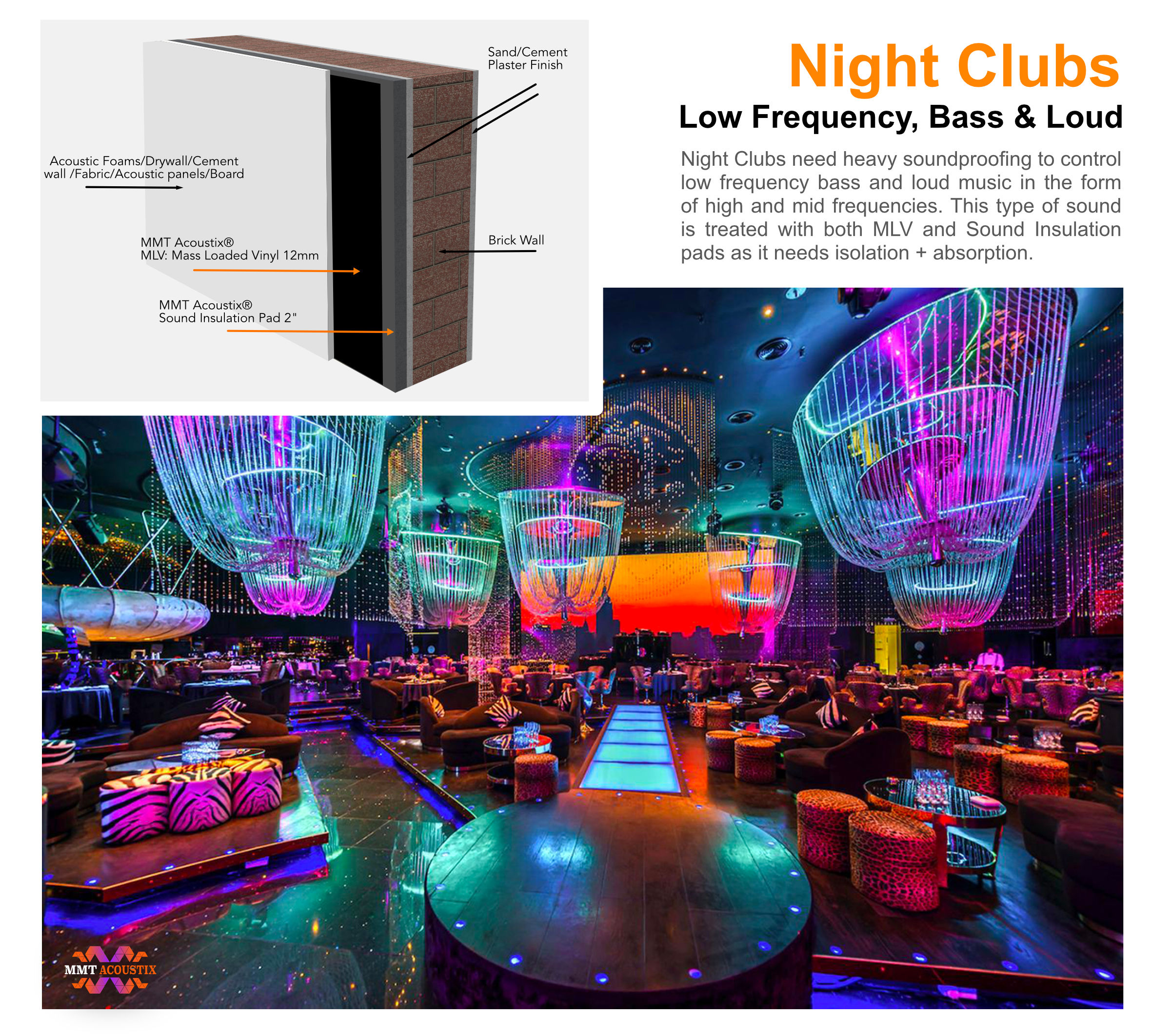 SoundBlanket® MLV : Mass Loaded Vinyl
SoundBlanket® Mass Loaded Vinyl noise barrier is a high density soundproofing membrane which can easily spread on floor, ceiling and walls to isolate the sound from one space to another. Mass loaded vinyl is used for auditorium soundproofing to block low frequency sounds. MLV comes in roll form and is available in different thickness. For more information about the product click here

BassBloc® : Low Frequency Absorber
BassBloc® is a high-density polyurethane based bass absorber which easily blocks high and mid sound frequencies. Easily sticks over brick wall, wooden wall, Soundblanket®, cement board etc with adhesive. Majorly used inside the wall grid sections in replacement of mineral wool for sound absorption. Because of it's high density it can be used on floors and covered with carpets or wooden flooring for reducing the sound transmission. For more information about the product click here

SoundAxe® : Wooden Acoustic Diffusers
Introducing easy to install SoundAxe® wooden acoustic diffusers. The panels is sized 595x595x25mm which consist of a 3mm high density wooden top and 22mm sound absorbing acoustic foam. The combination of grooves on the wood diffuses the sound and the hollow acoustic foam part absorbs the sound.
The multi function Soundaxe wooden acoustic panels is one of its kind and widely used in projects for improving sound quality . For more information about the product click here

Acoustic Foam Panels
Acoustic foam panels are used widely to absorb sound reflections and are rated best in acoustic treatment products. The product comes in various sizes, colors and designs to suit every project's need. The most liked design is Pyramid, Turbo and Wedge acoustic foam panel. The NRC of this product is greater than 0.90. Best for studios, home theatres, conference halls, offices etc. For more information about the product click here

Inducing Professional Soundproofing & Acoustic Products Globally
soundproofing in nightclubs, acoustic treatment in nightclubs, soundproofing in bars, soundproofing in cafe, soundproofing in disco, acoustic treatment in bars, acoustic treatment in clubs, acoustic treatment indiscotheque, acoustic treatment in nightclubs